OUR STORY
Photo Tex is an innovative peel & stick, multi-patented, adhesive material made of 100% polyester fabric. This is the backdrop (no pun intended) of how Photo Tex conceived from a vision to a reality and became the leading removable self-adhesive sign and wallpaper fabric in the world.
The journey began. Walter Gierlach Jr. graduated from Robert Morris University in Pittsburgh, Pennsylvania with a Bachelor of Science in Business Administration (Deans List). He left his job working in management for (UPS) a package delivery and supply chain company to join his father-in-law who owned Swaneck Graphic Equipment Inc. in Youngstown, Ohio.

Swaneck Graphic was an importer of lithographic equipment and bindery machinery as well as manufacturing hydraulic paper cutters. This provided Walter with his first real opportunity to explore and establish a national dealer network for the company's equipment line. Over the next 17 years, Swaneck Graphic Equipment grew into a top five national distributor in the lithographic industry, with a national dealer network of over 70 strong.
Walter took over the business after his father-in-law retired. The demand for lithographic and bindery machines diminished as computers and digital copiers became key fixtures in the marketplace. During this time, Walter began searching for new products in the graphic arts industry to bring to the United States. Through an import and export website, he connected with an individual in South Korea who invented this now famous peel & stick polyester fabric material.

Walter introduced and demonstrated Photo Tex peel & stick at a printing equipment trade show in Toronto, Ontario. He received interest from several groups, including one in particular with a unique idea to use the material as a temporary install. It would be to promote the 2004 Olympics apparel in all the Roots department stores across Canada. They found Photo Tex peel & stick versatile, as the material doesn't rip, wrinkle or stretch. Plus, it was easy to install and remove without damaging the wall.

The printers notified Walter to contact the manufacturer in South Korea immediately and ask for the North American rights for the Photo Tex peel & stick. The material was so well received that it made the front cover of Digital Output in January 2004 and was quickly recognized as one of the greatest materials invented for the sign industry.

Walter traveled to South Korea to purchase his first container of Photo Tex peel & stick (by putting a second mortgage on his house) and signed an exclusive contract for North America. He began promoting the material at sign shows across the continent.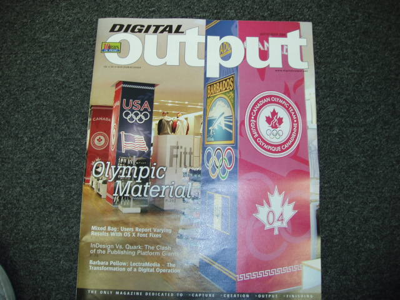 Front Cover January 2004 – Birth of Photo Tex goes viral.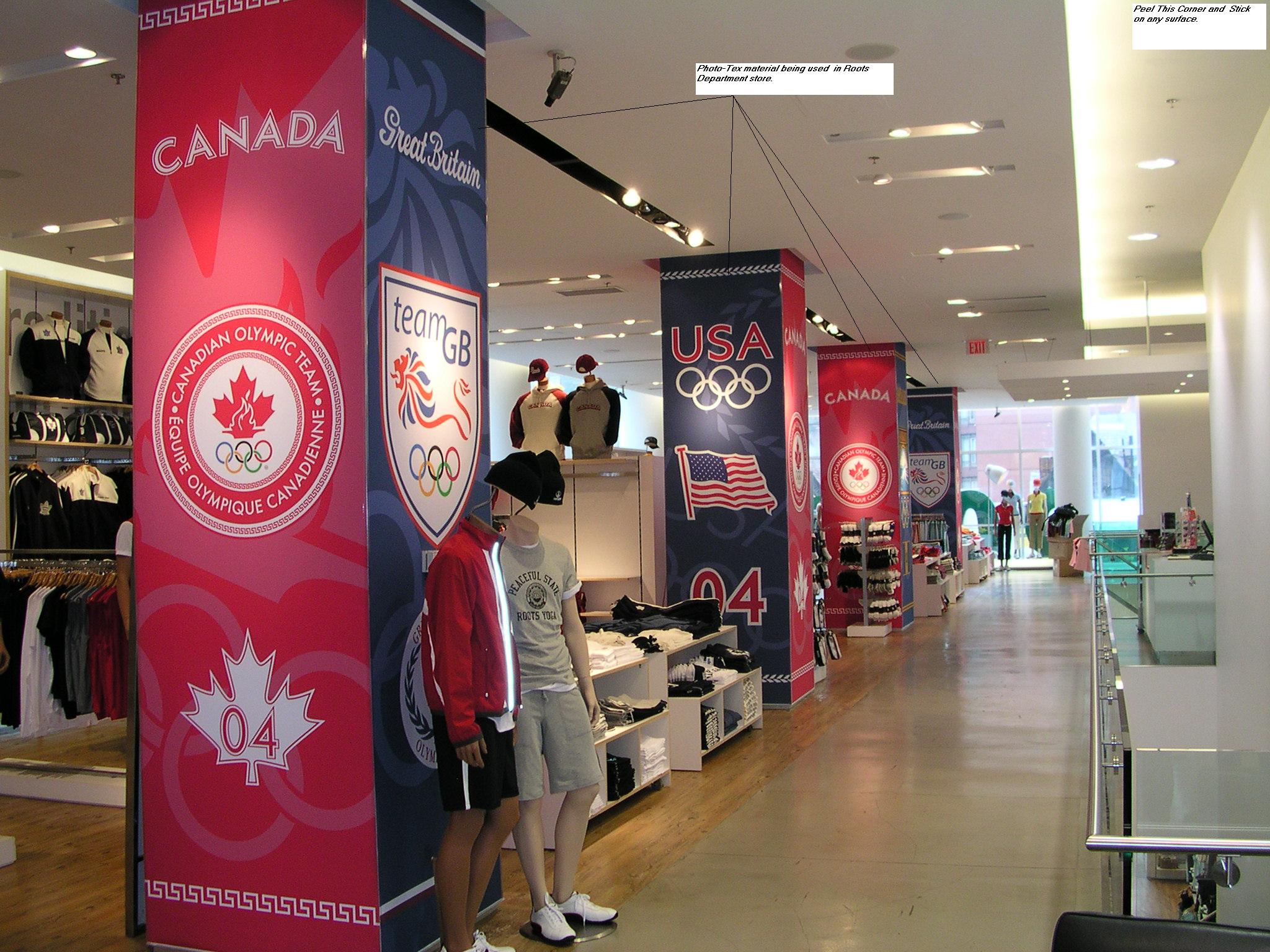 Very first installs of Photo Tex peel & stick at Roots department stores in Canada.
Photo Tex, short for Photographic Image Quality on Textile Material was born. Photo Tex became the very first in the industry to develop a polyester peel & stick, removable, repositionable media. It included one-of-a-kind features such as the ability to bleed to the edges and not curl, handle extreme temperature changes and be removed years later without damaging the material or wall.
Calling his father, Walter Sr. out of retirement (who owned and operated several national distributors as an importer) and utilizing the key employees from the Swaneck Graphic Equipment days, Walter quickly formed a well-tuned team. Between 2008 and 2016, Photo Tex expanded the same fabric to meet all large-format inks and uses.

Currently, Photo Tex is offered in 26 skews, two coatings and three versions. The material is widely used in malls, schools, homes, stadiums, businesses and conventions across the globe. Photo Tex operates out of the same 20,000 square foot facility that Walter had worked in with his father-in-law.

Photo Tex has held its ground as one of the Top 50 distributors in the sign industry. In addition, it's received a multitude of awards from printers' printing on media and Walter has expanded Photo Tex's exclusive contract into all the America's, Europe and Australia. As you can see 15 years later Photo Tex is still considered the premier wallcovering material to use and once again in June 2019 – Photo Tex was on the  Front Cover of (Digital Output)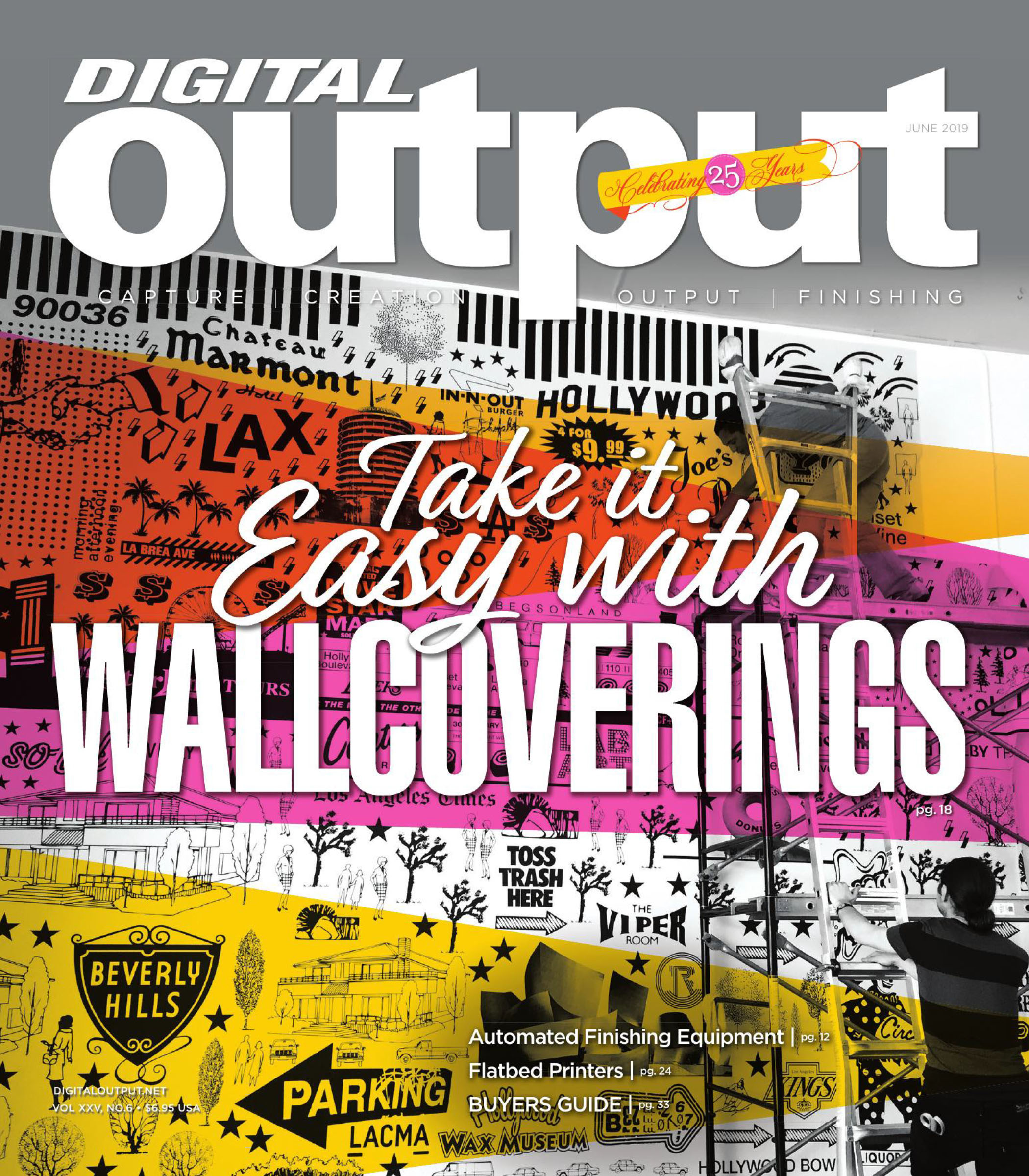 Offering the #1 self-adhesive fabric in the world, Photo Tex remains a leading provider of fabrication solutions for walls, windows, doors, and floors. The readers of Digital Output chose Photo Tex as one of the Top 50 companies for 2022. These awards are given to the leading vendors in the graphic arts. Companies receive this honor based on data collected from Digital Output's online lead generation system. Photo Tex is honored to be a Digital Output Reader's Choice Top 50 company!